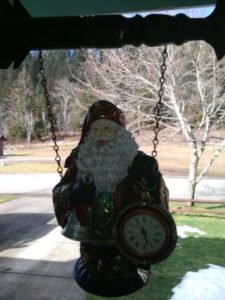 If you have ever purchased a specialty clock like a Christmas Clock from Hallmark or the Arrow Replacement Santa with a clock pictured on the right and then tried to find replacement parts, you know that can be a real challenge.
Why I needed a replacement battery
I typically remove batteries from seasonal items so the batteries do not corrode during storage.  When I opened the Santa with a clock to display it during the 2018 Christmas season, I found there was no battery in the clock and the battery had not been stored with the clock.  I have made sure the battery is with the display so I will not have the same problem in 2019.
How I found the correct battery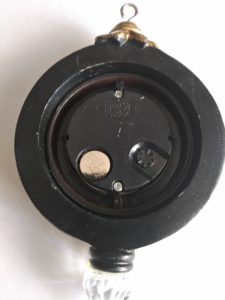 I searched the internet for information to tell me what size battery I needed to operate the clock.  I found several sites that would sell me the original display but nowhere did I find any information about the battery to operate the clock.  Unlike a lot of items that you can purchase today, there is no website that supports these seasonal display items.  There is an organization called Batteries plus Bulbs that has stores in our area.  I was able to locate a store about a half hour's drive from my home.  I took the Santa with me to the store and asked the clerk who waited on me if he could help me find the right battery to operate the clock.  He took the battery cover off the back of the clock, took a quick look and said: "that needs a 357 battery".  I asked how he knew that and he replied "the diameter and thickness of the battery".  He reached into his stock of batteries, opened the case, dropped the battery into the battery compartment and the clock began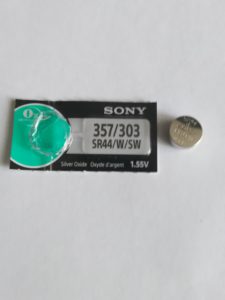 working.  There are pictures on the right that show the battery compartment, the tag from the battery display at the store and of the battery itself.  The battery also has the number SR44 on it.
Shopping for a replacement battery
Knowing the correct number for the replacement battery, it is possible to find many sources for purchasing a new battery.  By just typing SR44 battery into the Google search bar, hundreds of images for the battery appeared and most showed a vendor that would provide you with the battery.  This size battery is not one that you will typically find in a battery display at retail stores so it will take some searching to find a vendor near you.
I hope that this article might save you some time and frustration should you have to try to learn what battery you need for your Christmas display.