I do not remember learning to tell time but I am pretty sure my parents did not have clocks designed to help them teach time to their children.  I have not been able to find any information about when this type of clock was first introduced to the market place.  Today, you can find many different types of clocks to aid in the teaching of time.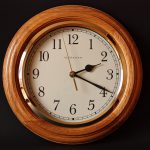 When I decided to use this subject as my second post, I did a Google search on this subject and found more than 26 million sites that had this topic included in their description.  Reviewing the images provided on Google for this subject, I found two separate types of clocks.  The first type is designed to help a child understand the use of the hour hand and the minute hand on the typical analog clock.    An example of the analog clocks sold to help with teaching can be seen here.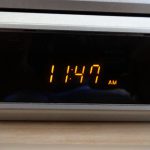 Digital clocks show the hour and minute and make the teaching process easier but there are still more analog clocks used today so a child has to learn to tell time with that type of clock.
The second type of teaching clock is designed to help a child understand the concept of elapsed time.  With this type of clock, you can pick a period of time, like ten minutes, and hi-light that amount of time on the face of the clock in red.  The child then can tell how much time is left by looking at the amount of red still showing on the face of the clock.  The makers of the clock indicate the clock can be used to regulate computer time (and it would work for cell phone time also).  An image of this type clock can be found here.
The elapsed time clock has apparently been used to teach time to children with autism.  Several sites for special needs children indicate the visual aspect of the teaching tool with a disappearing red disk seems to appeal to the children.  There are several other types of elapsed time teaching tools but this one seems to be a favorite with the children and teachers.
In this age of smart phones, there are also apps to help teach time to children.  In the United States, it seems this type of app is combined with all types of teaching apps so it was difficult to find someone reviewing the quality of time teaching apps.  However, in the United Kingdom, there is an article reviewing "the best time telling apps".  All of the information relates to availability in the United Kingdom but I found that entering the names into Google brought up information on the apps in the United States.  This article provides information on several apps in one place.  You can find the article by following this link.
I hope you have found this article fun to read and I hope you are young enough to remember when you were learning to tell time.  If you know of other time teaching clocks that are not include in my article, please feel free to leave a comment below.